Click here to go to this page at new link
Cooking and Baking...
I love to cook and bake... Sometimes I will spend time in the kitchen to unwind and relax. Just to get away from the computers.
Kneading dough for bread or pizza crust is a great way to get the kinks out of your back and shoulders after typing for most of the morning... And the smell of fresh baked bread, you just can't beat it!
There is nothing quite like a pot of beef stew or chicken soup simmering on the stove on a cold winter day to make you feel warm and toasty...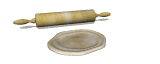 Most of the time I'd prefer cooking and baking from scratch rather than buy something ready made or go out.
When times get too busy to cook I'll take a day and just cook like crazy and pack everything up to freeze. I end up with a freezer full of assorted single serve meals that I can just grab and pop into the microwave to heat up when there is no time for cooking. Gives me the convenience while still having home cooking. I've spoiled myself SO bad!
I love to bake pies, cookies, breads, rolls, and cakes... My pie crusts are from scratch and I prefer fresh fruits over canned. But don't forget about cream pies: chocolate, coconut, banana and even good ole vanilla!
Oh, if you're wondering just how insane I am? I see nothing at all wrong with firing up the BBQ in the winter time or having a picnic in the living room during blizzard!
I've started adding some of the recipes that I've been collecting over the years, you'll find the link up above, on the left. Some of them I've tried, some I want to try... I'll be adding some of my own creations as well.....